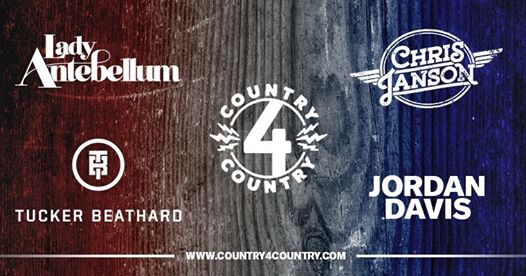 Pepsi MidAmerica launched a new campaign, Country 4 Country, centered on raising awareness and giving back to veteran organizations. Partnering with Country Music superstars Lady Antebellum, platinum-selling artist Chris Janson, Billboard "Artist to Watch" Jordan Davis, and rising country artist Tucker Beathard, Country 4 Country will run a Summer-long can promotion and host a kickoff concert on July 21st in Marion, IL. Concert proceeds will benefit Honor Flight, Folds of Honor, and Wounded Warrior Project. Consumers can visit www.country4country.com to donate to these great organizations.
The Pepsi MidAmerica Tailgate Party runs from 11 A.M. to 5 P.M. with food, drinks, and live music. Tailgate Party Artist include Ashlyn Grayce, James Robert Webb, Lexanna, Southern Halo, and Elvie Shane.
SCHEDULE
11:00: Ashlyn Grayce
12:20: James Robert Webb
1:40: Lexanna
3:00: Southern Halo
4:20: Elvie Shane
Once you enter the tailgate zone, you will receive your wrist band to purchase drinks and the wristband for your specific seating / standing area for the main concert.
Don't miss out on this all-day event to support our nations finest. Entry to the Tailgate Party is free with your concert ticket.
Main Gates open at 5:00 P.M. for Fast Pass and 5:30 P.M. for all other ticket holders.
KICKOFF ARTISTS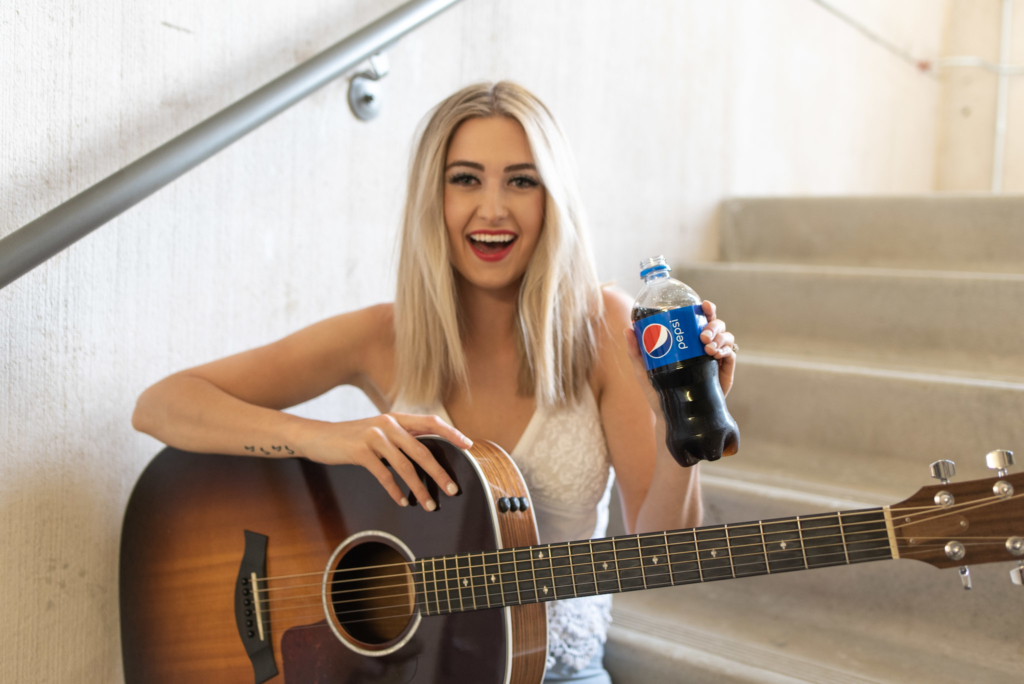 Ashlyn Grayce
Ashlyn Grayce's charismatic charm landed her print ads for Cracker Barrel, Arista Records and Readers Digest while she was a teenager. Ashlyn had already shared stages with top-named artists and performed for more than six festival stages and numerous Nashville venues. Ashlyn co-hosted episodes of TBN' Juce TV internationally syndicated "JUCE Live", "JUCE Live After Party" and filming social media updates for their TV show "Hot off the Press." In 2018, Ashlyn released her first EP, "Somethin' 'Bout a Song," which debuted at No. 4 on iTunes Singer/Songwriter chart and Bestseller list, and graduated from Lipscomb University Cum Laude with a B.A. Degree in Strategic Communication. https://www.ashlyngrayce.com/
2. James Robert Webb
True to his blue-collar roots, James Robert Webb walks the line between traditional and modern country music. Raised on a small farm outside of Tulsa, Oklahoma, he grew up listening to a wide varkety of Oklahoma artists including Bob Willis, Garth Brooks and Leon Russell. His sound is driven by his unique indefinable voice and organix, neo-trditionalist style fused with modern production.
His 201 debut, Pictures, yielded two top 40 singles on the Music Row Country Breakout Chart – "Makin' Love Tonight" and "How That Feels". Both singles also broke the top 60 at Billboard Indicator.
In 2019, one of country music's most award winning and renowned producer's Buddy Cannon, took notice of James Robert Webb. They recently finished recording a full-length project coming out Fall 2019. James wrote his current single "April May" which is on the highly anticipated project.
James' music has attracted new opportunities for the easygoing giant and has caught the attention of the Nashville music industry. He recently played Calf Fry 2019, headlined the Southfork Music Festival in Parker, TX, and was hand picked by Pepsi executives to open for Lady Antebellum at the Country4Country concert on July 21st, 2019. www.jamesrobertwebb.com
3.Lexanna
Rarely can two sisters—especially close in age—see eye to eye consistently. But Lexi and Savanna can always agree on music. In 2016, they made their musical partnership official when they formed Country pop duo Lexanna.
Music has been etched into their DNA. Their dad was an independent Country artist who often drove to Nashville to record. He would regularly take his daughters on tour or on stage, fostering an immediate love of performing.
The sisters are Inspired by strong female leads like Adele, Kelly Clarkson and P!nk, as well as iconic Country vocalists like Carrie Underwood, Martina McBride and Faith Hill. https://www.lexannamusic.com/ 4. Southern Halo
Southern Halo has performed at CMA Music Fest (2018, 2016), Nashville's legendary Bluebird Café and at a pre-show on the rooftop terrace of the Grammy Museum in Los Angeles, launched Townsquare Media's Say It With Pepsi Concert Series, and toured on the 2018 Spring/Fall High School Nation Tour. They've brought two energetic stage perfomances to the U.K. and other countries across the globe.
Natalia (principal songwriter, guitarist, lead vocalist), Christina (drums) and Hannah (bass) are true children of the Delta, and they were initially inspired by the Blues artists they heard during their childhood. By ages 9, 10 and 12 respectively, they were booked to perform at nearby Blues festivals.
In 2014, they set the record as the youngest artists ever to compete in the Texaco Country Showdown. They've gone on to open for Brantley Gilbert, Maren Morris, Randy Houser, Eric Paslay, Tyler Farr, Old Dominion, Love and Theft – even Blues immortal B.B. King and legendary chanteuse Dionne Warwick have welcomed them to the stage.
They released their debut EP (produced by Alabama's Jeff Cook) in 2014. The following year, two of Nashville's top songwriters, Gerald O'Brien and SESAC Writer Of The Year Catt Gravitt, produced the group's first self-titled full-length project. Their current CD, helmed by O'Brien/Gravitt, Just Like in the Movies (2018), has given them two Top #25 hits on the MusicRow CountryBreakOut™ chart with "Anything Is Possible" and "I Think Too Much." https://www.southernhalo.net/
5. Elvie Shane
With influences that include Steve Earle, John Fogerty and Roger Miller, Elvie has cultivated a custom sound that features rootsy grooves, heavy guitar licks and gospel-ready vocals. Inspired by real-life experiences, Elvie's lyrics are packed with heart, nostalgia and hardship with a side of food for thought. His first-hand knowledge working in the mills and on the road have armed the young talent with an effortless ability to relate to the small town working man and paint a picture of American life in a way that is reminiscent of Bruce Springsteen. https://www.facebook.com/elvieshanemusic/