Premix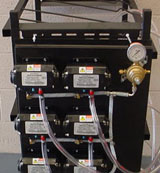 Premix is a soft drink made by the sanitary, modern equipment in bottling plants and packaged in 5 gallon stainless steel tanks. Premix contains:
Polished and
Filtered water
Carbonated with the precise amount of CO2
Blended with the correct amount of syrup
It is the exact same high quality product you expect to find in any soft drink packed goods.
Premix is a finished soft drink product that is identical in taste and mix to bottled or canned Pepsi product. It is supplied in tanks for use in fountain dispensers. It is commonly used for special events where an outside water or electricity source is not readily available, e.g., envents held at parks, stadiums, arenas, etc.
Postmix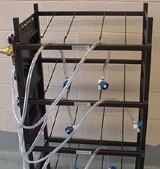 Postmix is a softdrink made on location. It is recommended that the water from the municipal source be filtered before it is carbonated, and blended with syrup at the location while it is being dispensed.
Postmix is a syrup which is mixed with water and CO2 at the consumer account. This is done through the post-mix dispenser. CO2 gas carbonates the water which then flows to the dispenser. A separate line flows from the syrup tank or Bag-in-Box (B-I-B) to the dispenser. The carbonated water and syrup are mixed at the dispensing valve.